2 NEW features for project management baddies | notion is globally UNIQUE | 2023 has been slayed, i fear
Welcome, all 1,172 of you! Notion has launched sub-tasks and dependencies + other community news + pieces of pop culture indulgences, as told by Beyonce's Renaissance. Also yes, we're on Substack now!
If this past week was a GIF, it would be: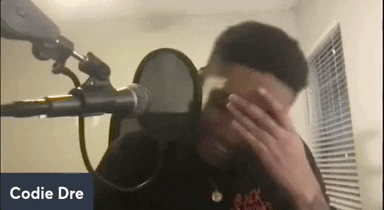 This month, expect more exciting emails from me as I:
✧ Launch the 2023 version of
my
cult
journal
(explore the 2022 version to get on the mailing list)
👉🏽
Sign up here
,
commitment-free
, to get first access to the course when it drops - 88 of you have already 😍
Recently, in the Notion Zeitgeist ↯
Please note, I am writing this as I'm listening to my personal AOTY - Renaissance, so I have included lyrics/songs from the album that I think match the vibe of each story. If you don't believe how much I love the Renaissance album, I literally made a whole Notion template dedicated to it.
✨ It's giving, evolution ✨
I can be the one that takes you there, on this magic ride - Virgo's Groove
There's no denying that Notion has changed a lot over the years. I didn't realise how much it has changed until I compared the 2021 vs 2022 vs 2023 versions of my Gratitude Journal template - The Happiness Bar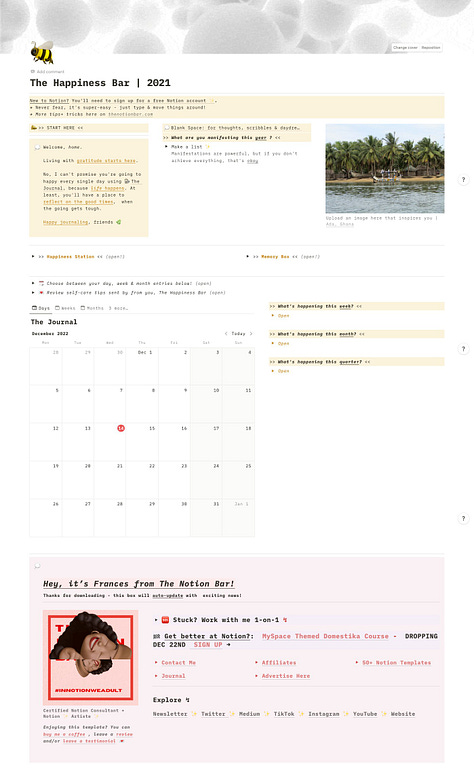 In the 2022 journal, you can clearly see how I went to town on the fact that I could finally drag blocks into columns. In the 2023 journal, you can see how I've upgraded the experience with using the newly introduced header toggles to reduce scroll time. For the 2024 journal? Who knows what Notion has in store for us!
Either way, this was a cool way to objectively see Notion's journey overtime, as well as my journey of objectively becoming a better designer. I think anyone who designs/builds for a living should make a habit of looking back at your old work to see how far you've come.
What's one thing you used to do as a designer that you wouldn't do now?
✨ Notion is a proper project management tool now? ✨
MASTERPIECE, GENIUS, DRIP INTROVENUS - Alien Superstar
Yes, the news is true - Notion is going full on project management. Notion's launched dependencies + sub-tasks (if we're being *technical* sub-items) for databases. aNotioneer has made a pretty robust video breaking them down here.
What are Notion dependencies?
Basically, if you have a task that can be blocked by other tasks, in your timeline view menu, you can set up dependencies to identity those blockers.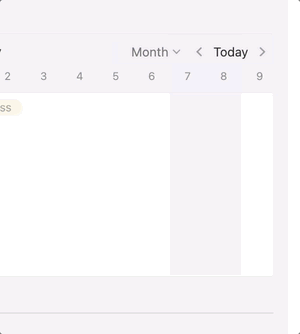 Current drawback: we get the fancy arrows and the blockers/blockees appear as properties on each others pages, BUT we still don't get the functionality that a lot of my clients ask for: "if I move this deadline date, can the dates of the tasks move too". This is a brand new feature, so I'm assuming this could probably be on the roadmap. Anyways, ya'll are hyped:
What are Notion sub-items/sub tasks?
Another big request I get from my clients: sub-tasks (sub-items). You could technically set this up before, but it was pretty manual and you didn't get the the nice 'toggle' effect you see above.
However, this new feature won't just work for sub-tasks, this will work for any dataset where you have a parent/child relationship within the same dataset (i.e. they would need to use the same properties, but there's some kind of hierarchy).
For example, you could use this in a 'Contacts' database where the parent was company and the child was the person/contact attached to that company.
✨ 2023, we're coming to get you! ✨
I'M ON THAT NEW VIBRATION, I'M BUILDING MY OWN FOUNDATION - Break My Soul
NEW YEAR, NEW ME or something like that. As we head into the new year (in the western sense, anyways) a lot of use get the urge to 'get our lives together'.
For a lot of people, Notion is a great tool to help aide that, due to its flexibility in literally being able to 'recreate your brain'. Here are examples of how some of you are prepping your 2023 with Notion:
Marie Poulin is one of the Notion OGs, so I wouldn't expect anything less than stunning, super-organised dashboard overview
I love this story from Shy (also one of my clients!) on how he's using Notion as a second brain to help superpower such an an amazing mission 😍
How are you super-powering your 2023 goals with Notion?
Quick Q: Do you want more pop culture/aesthetic Notion content ↯
Example goodies: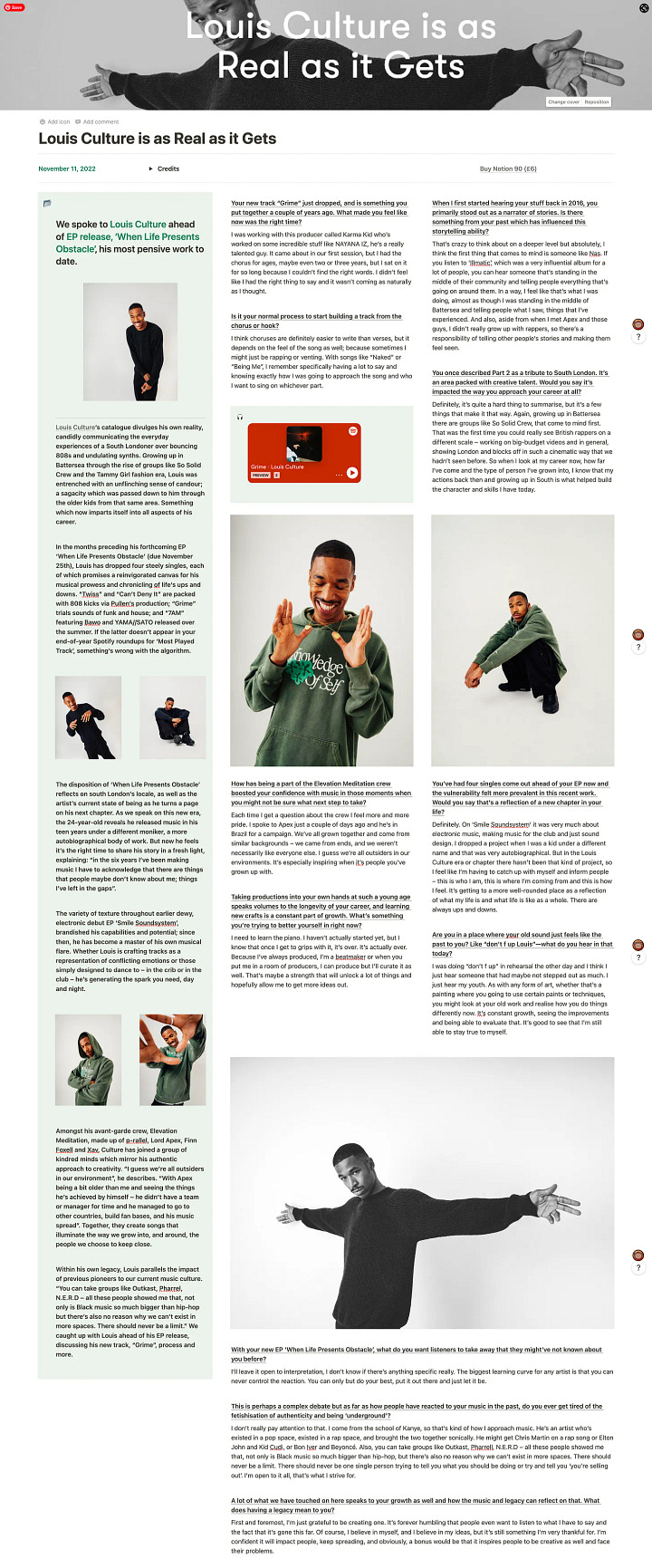 ✨ Notion all over the world ✨
LOOK AROUND IT'S ME AND ME CREW, BIG ENERGY - Energy
The Notion community is AWESOME. Take a look back through some of the recent Notion community events in Korea, Ghana, England, Malaysia and India. Check out if your area has a Notion community, or start one!
✨ If AI controlled your Notion? ✨
Paint the town red like cinnamon, Yellow diamonds, limoncello glisterin'- Cozy
The fact that this is what AI thinks a Notion dashboard could be is INSPIRED. Personally, gassed for the day when Notion intros native graphs 🤤
Having Notion automagically create page images/covers is actually a great idea. Truthfully, I've been turning card previews OFF lately, because I simply can't be bothered to find a new cover image time. I'm lazy, okay! Thanks for the inspo, Jill.
AI this, AI that. I'm liking Notion AI at the moment to help mainly clean up my writing. For those of you still on the Notion AI waitlist - sorry 😅
What are you using Notion AI for?
✨ When did you become Notion obsessed? ✨
I like it, I love it bay-bay [insert angelic vocal run] - Plastic Off The Sofa
Let's not beat around the bush, Notion has a massive learning curve. Something I'm making easier with my course
As Notion lovers, something that we can all have in common is that moment when Notion suddenly clicks for you. For me, the first time Notion clicked was when I created a resume with Notion that landed me my last day job as a project manager (the template still exists!). This is when I realised that Notion had potential to not just be a productivity tool, but also be a possibility tool and build anything you want. Notion is literally a blank canvas.
When was the first time the ✨power✨ of Notion clicked for you?
🚨
NOTION SOS?
🚨
I'm a Certified Notion Consultant and have helped more than 150+ clients - here's what some of them have to say
✨
CURIOUS ABOUT NOTION?
✨
If you're not using Notion yet and want to see what all the fuss is about, try it here #NotionPartner
Profuntivity Tips ↯
Profuntivity: "adding layers of fun into your werkflow, while being realistic about what you can actually get done
On the socials, you are *loving* my profuntivity tips, so here's a little archive - manifesting writing a best-selling book one day!
🎁 NEW: Write to yourself
📽: 10 minute multitasking | Get a nice mug | The 10 Minute Commit | Get a nice backpack | Stop tracking everything | Radio x Work From Home | Music during calls
Upcoming Events ↯
The Course ↯
I'm launching a FUN and AFFORDABLE Notion course with GLOBAL course provider, Domestika on 22nd December ✨
🐣 New/Novice Notion Users will learn how unlock the power of Notion & think through it.

🪄 Notion Wizards will learn how to think creatively with Notion by applying the magic of design thinking

❤️ Everyone will trick themselves into Notion euphoria by tapping into their inner 2000s and building a "MySpace" style profile page, which you could deffo repurpose and share as a portfolio/personal site - (or not, lol)
The Lab ↯
I'm building for clients + collabs:
Building a HQ for a Podcast Agency

Building a HQ for a Culture Consultancy

Building a HQ for a hyphenate content creator

'Life Designing' a life/biz hub for a start-up owner

'Life Designing' a central dashboard to learn the Quran, manage home renovations and more

Surprise collab based around UGC

Suprise journal collab
💌 Read what my clients have to say
🧪 Work with me? Reply to this email
I'm building:
You're building:
💌 Want to feature above?
Explore ↯
Le Pop Culture:
📺 An easy watch for spy drama/comedy lovers: The Recruit (on Netflix). Noah Centineo, the man that you are 🤌🏾

🎶 Song that's 90% of my personality, currently: Gorilla x Little Simz
Notion + Productivity
🎓 New Semester: I'm jealous of the 280 + students planning their semesters with this semester planner - can I go back to school?!

🐣 Automate Twitter: my Twitter is 80% on auto-pilot thanks to Hypefury - get it in on the action (affiliate)

💸 Money for research: let your audience subscribe to your research and embed in Notion with Kahana - sign-up for free, use code 'TNB'
Enjoyed this week's musings?
Thanks for reading!
☎️ Notion coaching/consulting: Book a call

📧 Work with me, template ideas or collabs? reply to this!
Best Energy,
Frances Odera Matthews
Founder of The Notion Bar & Certified Notion Consultant (✨Artiste✨)